The 2019 Chinese Classical Show for International Students Staged in SCU
Date:2019-10-23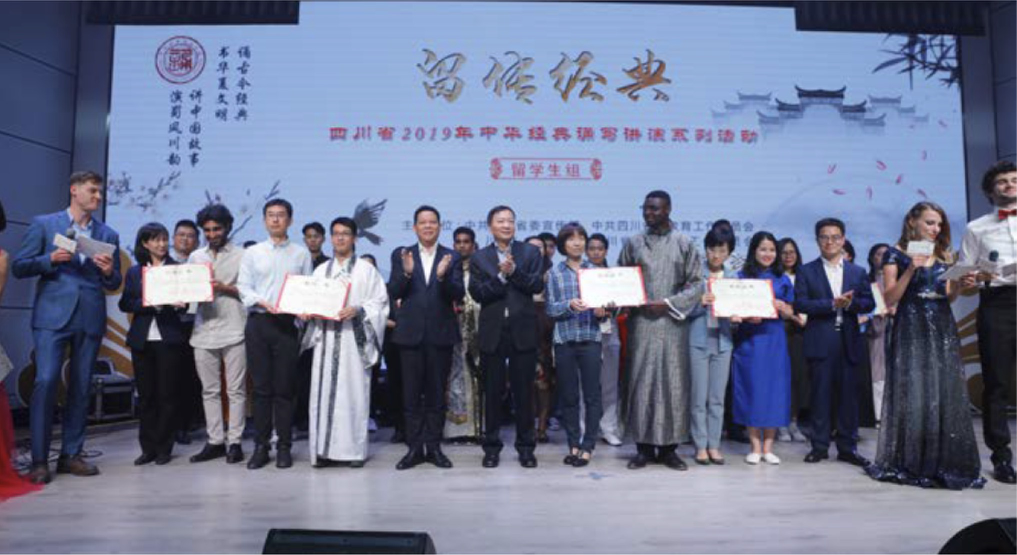 Themed with reading ancient and modern classics, promoting the Chinese civilization, telling the Chinese stories and exhibiting the charm of Sichuan, the 2019 Chinese Classic Show for the International Students was held at SCU recently.
International students from over ten colleges and universities in Sichuan put on dozens of exciting programs.
SCU Vice President Yan Shijing addressed this event, noting that the Chinese culture has a long history of splendid glory, and the Chinese classics are the spiritual treasure of the Chinese nation and the mankind. With the implementation of the BRI, more and more international students study in China. By the end of 2018, 3,851 international students from 103 countries had been enrolled in SCU. Many international graduates of SCU have made their own efforts in the integration of the Chinese civilization and world civilization as cultural messengers for the exchanges between China and the rest of the world, he stressed, expressing his hope that this event could provide an access to the international students in gaining more knowledge of the Chinese culture.
In recent years, students from more than 100 countries come to study in Sichuan, making it an important destination for studying in western China. As international students acting as a bridge for promoting cultural exchanges between China and foreign countries, this event will set up a new platform for promoting Sichuan culture worldwide, and injecting a new vitality and impetus into the education of international students.
The joyful song mix "We are together" kicked off the competition, which attracted international students from Ghana, Thailand, Malaysia and other countries to express their love for China and Sichuan via their own rhythmic national songs and dances.
Zhu Ziqing's essay "Hurry", recited by students from Pakistan, Nigeria, and Nepal, expressed their cherished enthusiasm for studying in China.
An ode "Maritime Silk Road", chanted by three Malaysian students, signaled the support of the ASEAN countries' students to the Belt and Road Initiative.
"I love China and the Chinese culture. The ancient Chinese poems always give me strong strength, and guides me to meet challenges bravely," said an Iranian student from SCU who used a sensational "Short Song Ballad" to express his love for Chinese traditional culture.
These students also performed classic works reflecting the modern Chinese people's unremitting struggle for the rise and revival of the nation.
The event was successfully concluded in the musical poem "I Love You, China" performed by a few SCU teachers.